Phoenix Fiber Optics & Outside Plant Services

Implementing a high-speed fiber optic network can be a challenge in today's high-speed environment. Let us help you build a foundation to support you current and future network applications utilizing performance based multimode and singlemode fiber optic products designed for your specific needs.

We are proud to provide expert fiber optic cabling in Phoenix and throughout Arizona, including Tucson and Flagstaff. Our team of certified fiber optic installers provide commercial fiber optic cabling, dmarc extensions as well as Outside Plant OSP fiber distribution. Services include multimode fiber optic cabling, singlemode fiber cabling, fusion splicing and OTDR fiber optic troubleshooting and repair.
Casa Tech Systems is a Corning NPI (Network of Preferred Installers) Silver Partner and has delivered fiber optic projects throughout Phoenix for clients including City of Phoenix Water Services Division, Desert Botanical Garden and ME Elecmetal Steel Foundry.  Each fiber optic project that we complete is tested and certified using Fluke Networks DSX5000/8000 Cable Analyzers.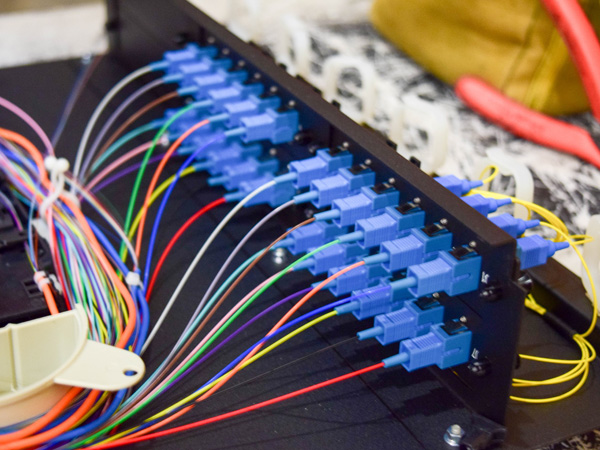 Fiber Optic Cabling Systems
We specialize in the design, installation,and maintenance of OM3/OM4 Multi-mode fiber cable and full spectrum high-performance OS1 Single-mode fiber optic cabling systems. These systems support network applications for fiber-to-the-desktop, network/backbone distribution, high-rise and multi-story applications. We offer MPOE,MPOP, DMARC circuit extensions for OC1/OC3 and fast Ethernet deployment. We also support legacy 62.5 Multi-mode fiber for control and security applications.
Fiber Optic Services
Fiber Optic Installation – Legacy 62.5, OM3/OM4 and Full Spectrum High-Performance Single-mode
Fiber Optic Termination – LC, SC/UPC, SC/APC, ST (Pre-Polished and Anaerobic)
Troubleshooting and Repair – OTDR Testing and Troubleshooting
Testing and Maintenance – OTDR and Length Loss Certification
Fiber-to-the-desktop – Multimedia and Bandwidth intensive applications and storage devices
Fiber Optic Fusion Splicing – Pigtail Distribution and Breakout, Repair and Restoration
OSP Fiber Optic Cable Installation and Troubleshooting
Emergency Fiber Optic Restoration – 24/7/365 Repair Services
Circuit Extensions – MPOE/MPOP DMARC Extensions for Fast-Ethernet and Optical Services
FIBER-TO-THE-DESKTOP
Traditionally, fiber-to-the-desktop was considered a high-end solution for businesses or companies with large budgets and extensive bandwidth requirements. Due to the increasing costs of all precious metals, copper cable and connectors have seen steady cost increases over the past few years. With this, fiber-to-the-desktop has become a viable option in today's economy. It is our opinion as a communications and network cabling contractor that a fiber-to-the-desktop solution is a much better long-term investment than a Category 6E/10X copper solution. There is a significant savings on fiber-to-the-desktop over copper 10X. Some small costs will be incurred for the network hardware, but overall the lifespan and almost unlimited bandwidth of fiber dramatically outweigh this additional cost.
Types of Fiber Optic Cable
Our fiber optic cabling design engineers are familiar with all types of fiber; understanding the importance between connector type, termination type, and fiber cable type for the appropriate application.
New Generation Multi-Mode
50/125 Micron Laser Enhanced
Laser Optimized

The new laser optimized fibers are a perfect choice for new and retrofit installations. It is designed to support all new 10 GHz transmission rates up to 500 meters and fully supports the majority of existing in-building and multi-story riser applications while providing a clear path for future bandwidth growth. Most manufacturers provide three length specifications for 50 micron fiber, 150 meter, 300 meter, and 500 meter.
Legacy Multi-Mode
62.5/125 Micron Standard Multi-mode Fiber

62.5 micron fiber can provide high speed links to support transmission up to the TIA/EIA standard of 300 meters within buildings and up to 2000 meters within a campus. Supporting the following standards 1000-BASE-SX up to 300 meters and 1000-BASE-LX up to 600 meters. Some manufacturers have extended the bandwidth to 10 Gdps Ethernet using EWDM (Enhanced Wave Division Multiplexing) lasers up to 300 meters. Due to its limited bandwidth 62.5 micron fiber is slowing being phased out.
Zero Water Peak Single-Mode
8.3/125 Micron Long Haul
Unlimited Bandwidth

The new Zero water peak single-mode fiber was developed to provide a fiber optic solution to support metro or campus backbone for today's new performance requirements. These cables provide the widest usable wavelength and allow for expansion of data rates in the future. This makes them a perfect choice for long haul applications, up to 60 km, and campus distribution systems requiring unlimited bandwidth to support all types of systems and applications. Each of our fiber optic technicians are among the best in their field. Fiber Optic Certification and Training, coupled with comprehensive hands-on experience ensure that each and every fiber project meets or exceeds the ANSI/EIA/TIA cabling standard.
Each of our Fiber Optic Technicians are among the best in their field. Fiber Optic Certification and Training, coupled with comprehensive hands-on experience ensure that each and every Fiber project meets or exceeds the ANSI/EIA/TIA cabling standard.
Types of Fiber Optic Connectors
We stock and install all types of Fiber optic connectors. LC connectors are small form factor connectors typically used with current GBICs and fiber optic interfaces being deployed by most hardware manufacturers such as Cisco, NetGear, and HP. SC/UPC connectors are currently an older technology, but are still in use throughout the industry today. SC/APC connectors are typically used in video broadcast, CCTV, and CTV applications. ST connectors are legacy connectors in use in industrial,security, PLCs, and equipment cabinet connections.
Fiber Optic Testing
Testing is a crucial component in the installation and certification of fiber optic systems. Once we've completed the fiber optic cabling connections we test and certify each cable using Fluke Network's Optical Time-Domain Reflectometer. This data lets us verify network performance while also identifying any potential problems. We provide our clients with a copy that can be used to analyze, length, overall attenuation, and losses through splices or connectors. Should you ever have a problem with your network we can test for faults such as breaks and measure optical return loss and refraction.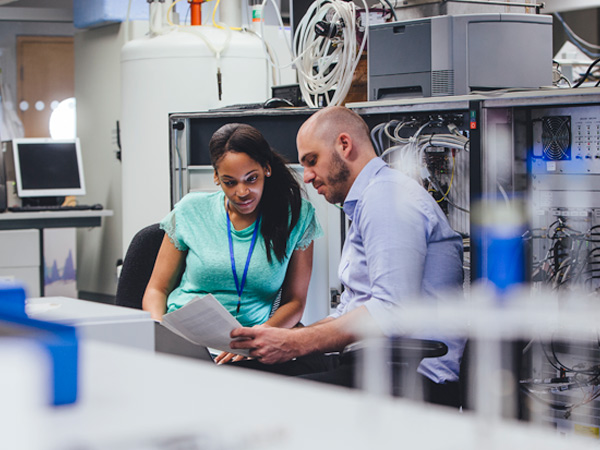 Advantages of Fiber Optic Cable
High Bandwidth
Immunity to Electromagnetic Interference
Data Security
Non Conductive Cables
Ease Of Installation